Fri, 26 July 2019
The InFocus Interview Show with Skip Cohen | Photofocus Podcast July 26, 2019
In this episode:
I had a chance to talk to Skip Cohen. Skip is a Marketing & Social Media guru who has written numerous books, spoken at all major photography conferences and has host thousands of Podcasting hours helping photographers reach their potential. Skip talks about the business classes he is teaching at ClickCon, a three-day hands-on photo and video learning experience held in Chicago Aug 5-7, 2019 and how it relates to the interview topic, "Stop buying gear and invest in education."
Topics:
Intro to social media marketing
Starting a photography business
Pricing your work
Midnight Madness- a 2 1/2 hour program sharing ideas on making your website stronger; interacting with your blog; expanding your reach; building relationships on your community; networking; getting the word out in your community about who you are; social media; giving back and cause-related marketing.
If you would like to attend the conference, follow this link to ClickCon and use Skip's code -- ccskip -- to save $50.00.
We like to hear from you!
Here's your chance to interact with the team by leaving a follow-up question in the comments section. We do our best to answer all questions in a timely manner.
You can be the next guest host on our podcast
Do you have an idea for a topic or want to hear from your favorite photographer or influencer in our industry? Send an email to Vanelli at v@photofocus.com with the subject line of INFOCUS INTERVIEW IDEA. Write a brief description of your topic or idea. If you are recommending someone, please include their name, contact information and state if you would like to be a guest host.
If you like these InFocus Interviews, please consider supporting our partners and sharing these links with your friends! ThinkTapLearn.com, Luminar by Skylum Software
---
Wed, 17 July 2019
Beyond Technique with Gareth Rockliffe | Photofocus Podcast July 17, 2019
Welcome to Beyond Technique, the podcast that empowers photographers to bring their businesses to the next level. Today we chat with fine art photographer Gareth Rockliffe!

We discuss:
How Gareth got his start as a photographer
What it means to live life in the "P mode," and why that can be limiting
Ways to avoid burnout and get out of a rut
Why it's important to have personal projects, and how this can benefit you
Why it's important to be willing to explore types of photography outside of your genre
Spirituality as it relates to photography
Advice for photographers just starting out
Gareth can be found at:
Have suggestions on future topics you want us to cover? Email us:
Share this podcast!
Please share this podcast with your friends and subscribe via iTunes.
---
Fri, 12 July 2019
Mind Your Own Business Podcast with Reid Callanan | Photofocus Podcast July 12, 2019
In this episode, Skip Cohen and Chamira Young chat with Reid Callanan about the importance of photography education.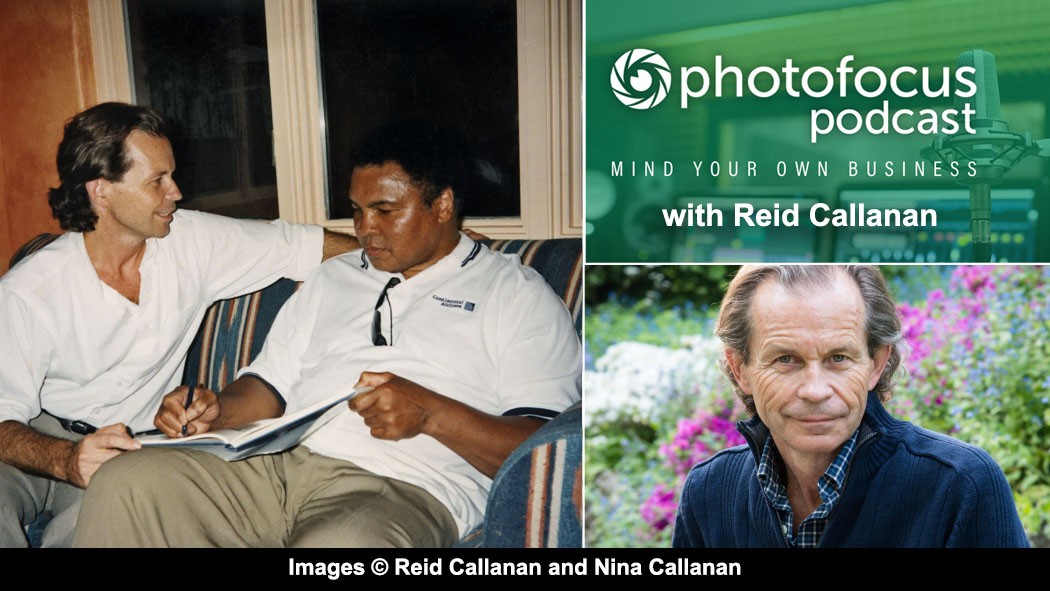 Images copyright Reid Callanan and Nina Callanan
Reid Callanan sitting with Muhammad Ali. Photo copyright Reid Callanan.
We discuss:
The role and importance of hands-on photography education
Tips for sustaining a business long term, through varying trends, economies and recessions
The role of having a personal vision in your body of work
The importance of consistency
Stories of celebrities that have attended his workshops
The most common struggles of his students
Advice for any photographers wanting to break into photography and especially find their personal vision
---
Reid Callanan and Santa Fe Workshops can be found at:
Have suggestions on future topics you want us to cover? Email us:
Share this podcast!
Please share this podcast with your friends and subscribe via iTunes.
---