Fri, 26 October 2018
The InFocus Interview Show with Levi Sim | Photofocus Podcast October 26, 2018
In this special Meet a Photofocus Author edition we catch up with Levi Sim.
Levi shares his many contributions to photography as well as work with Photofocus.
We like to hear from you!
Here's your chance to interact with the team by leaving a follow-up question in the comments section. We do our best to answer all questions in a timely manner.
You Can Be the Next Guest Host on Our Podcast
Do you have an idea for a topic or want to hear from your favorite photographer or influencer in our industry? Send an email to Vanelli at v@photofocus.com with the subject line of INFOCUS INTERVIEW IDEA. Write a brief description of your topic or idea. If you are recommending someone, please include their name, contact information and state if you would like to be a guest host.
---
Wed, 17 October 2018
Beyond Technique Podcast with Jeremy Horner | Photofocus Podcast October 17, 2018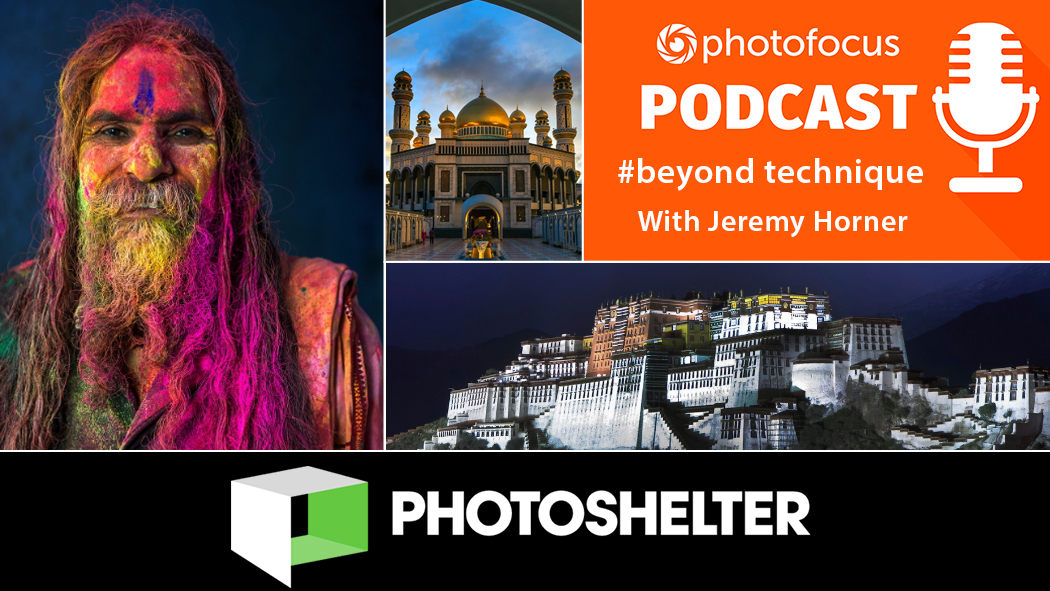 Welcome to Beyond Technique, a podcast empowering photographers to bring their businesses to the next level. Today we chat with travel photographer Jeremy Horner.
We discuss in detail:
Relationship building and interacting with people
The role of books and publishing in his business
Advice to new photographers
The importance of following your passion and looking inside yourself
Tips for successful street photography
The process of building trust with the people you photograph
The learning process involved with travel photography
How stock and travel photography have changed over time
How PhotoShelter helps with Jeremy's business
Photography as a great "equalizer"
The trap many photographers fall into when they first start out
Advice for photographers wanting to break into travel photography
You can find Jeremy at:

PhotoShelter gives people and organizations easy ways to manage their photos - from delivering, storing, selling, sharing - all from one place. Their platform offers simple and smart ways to share, store, deliver and sell your highest quality work. They handle the biggest files and solve some of the biggest business challenges for professional photographers.
Get social! Follow PhotoShelter online:
Have suggestions on future topics you want us to cover? Email us:
Skip Cohen: skip@mei500.com
Chamira Young: chamira@photofocus.com
Share This Podcast!
Please share this podcast with your friends and subscribe via iTunes.
---
Fri, 12 October 2018
Mind Your Own Business Podcast with David Scruggs and Jill Smith | Photofocus Podcast October 12, 2018
Welcome to the Mind Your Own Business Podcast!

Today we chat with wedding photographers David Scruggs and Jill Smith about several things that define a photographer as a professional, so that you not only rarely miss those important moments in a subject's life, but NEVER compromise on the quality of an image:
Listen, listen, listen - your role when capturing memories is to know and understand your client. That can only come with listening to them and building a relationship based on understanding their needs. You have to see the world through their eyes.
Never compromise your skill set - Being a photographer is about meeting your client's needs and having the skills to photograph at any time, regardless of the degree of difficulty. Of course there will be times when something that comes up that's simply over your head, but that doesn't change the importance of a never-ending quest for your own education.
Backup gear - When you least expect it, something is going to go wrong with your gear. Normal wear and tear, a dropped camera body or lens, a piece of equipment stolen - NEVER be without backup gear for those "just in case" moments.
Always be on time - Your clients trust you to be where you're supposed to be and always on time. And, even if you arrive just a few minutes late, you've created stress that wasn't necessary.
Keep your promises - NEVER make a promise you can't keep.
Build a relationship - In any business, but especially photography, it's important to build an ongoing relationship both leading up to an event and especially afterwards. Your success is about your ability to build trust.
Exceed expectations - Remember - "There are no traffic jams along the extra mile!" Roger Staubach
Love your career choice and show your passion for capturing memories - You can't capture images that tug at people's heartstrings if your own heart isn't in it!
Recognize the need for change - Whether it's your own style or simply tracking consumer trends, being a pro is about adapting and being able to stay relevant to consumer demands.
Support your associates and the industry - While this is outside the client/photographer relationship, a strong network can also help you through some of the most difficult challenges. Be involved in your local guild or association. Be helpful to other photographers and you'll find they'll also be there for you. Things come up that just aren't planned, but working together there's nothing you can't accomplish.
Have fun and be fun to work with - "Fun" is one of those words so often lost in business today. Building trust, capturing memories and being an outstanding artist has a core focus on loving what you do. Everybody has a bad day now and then, but being a professional photographer is about loving people and seeing the world through their eyes and often heart.
You can find David and Jill at:
Have suggestions on future topics you want us to cover? Email us:
Skip Cohen: skip@mei500.com
Chamira Young: chamira@photofocus.com
Share This Podcast!
Please share this podcast with your friends and subscribe via iTunes.
---